Neighborhood event gets school started on great footing
October 2nd, 2009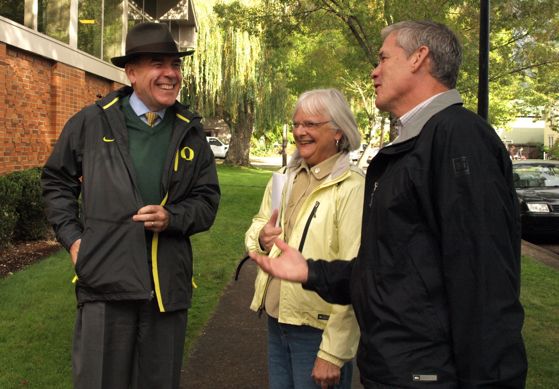 This week I joined Eugene Mayor Kitty Piercy, City Manager Jon Ruiz, Police Chief Pete Kerns, Emma Kallaway, president of the Associated Students of the University of Oregon, and others in a community welcome event in the neighborhoods surrounding the university.
Collectively we knocked on about five-hundred doors on Tuesday afternoon. We wanted to personally welcome students back to Eugene for fall term and also to encourage everybody in the neighborhood to build relationships with each other. We chatted with students about how to be good neighbors, and we talked with other residents about how to be great neighbors to students. We left information packets with additional resources, as well.
When it comes to engaging community members, Mayor Piercy and the city set a great example. I look forward to more community collaborations like this one.