Meeting people and fishing the McKenzie highlight April visit
April 16th, 2009
Jan and I left Eugene after our April visit already yearning to return.
We enjoyed immensely exploring the community in a rental car, and frequently making (legal) u-turns as we found our way around town. Over the course of our marriage, Jan and I have traveled extensively, but neither of us could think of better streets to get lost on than those of Eugene.
We met many of you during our whirlwind trip. The experience reinforced for us the tremendous passion of Oregonians not only on campus but also around the community. I gathered many insights from community leaders such as Eugene Mayor Kitty Piercy and Springfield Mayor Sid Leiken. Jan and I are both looking forward to seeing Eugene City Manager Jon Ruiz in mid-May in Lawrence, Kansas, when he visits for his nephew's graduation from the University of Kansas.
Among many, many others, Jan and I would like to thank fly fisherman and Associate University Librarian Andrew Bonamici for giving us a heads up on the March Brown mayfly hatch. Andrew, whom I've already heard described as the consummate renaissance man, gave me his university business card with the url for his fly-fishing blog hand-written on the back. I highly recommend the blog. And Jan – as you can see from the photo – highly recommends the McKenzie River after nabbing – and releasing -- her first Oregon Rainbow Trout on a guided trip with folks from the Caddis Fly.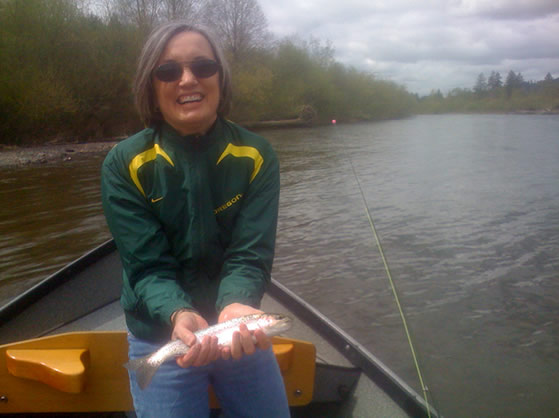 We're both eagerly awaiting our return and the chance to regularly ply the state's many waters, both actual and intellectual.